Why Obama is Lukewarm on a New Florida Election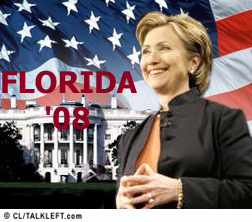 Despite Big Tent Democrat's five posts on Florida here today, not all has been said.
Hillary Clinton and Barack Obama's campaigns are now okay with a second Florida primary:
Now the Clinton campaign has begun expressing openness to a do-over. "Let's let all of the voters go again if they are willing to do it," said Clinton adviser Terry McAuliffe Tuesday night on MSNBC. "Whatever we have to do to get people in the system, let's do it."
Obama's campaign says it would participate if one is decided upon by the Party, but is not going to do anything to make it happen. It sounds decidedly luke-warm on the prospect:
"We're going to abide by their rules as they exist now and whatever happens in the future," Obama campaign manager David Plouffe told reporters Wednesday.

"I don't think it's for our campaign or her campaign — we're in a heated contest here — to have to be the facilitators here," Plouffe said. "This is between the DNC and those state parties."
It makes sense Obama would be only luke-warm to the idea. Just
look at the results
from the Florida primary, a scant 5 weeks ago. He won only the northern counties closest to Georgia and the deep south. He won no county below the top of the state. [More...]