Ohio Flooding: Some Polling Places Moved, Lots of Cross-Over Voters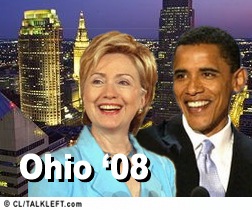 Flooding is such a problem in Southern Ohio that at the request of the Secretary of State, the courts have issued orders allowing voters to cast provisional ballots at their county board of elections. Here is the order for Perry County (pdf)and here is the one for Adams County. (pdf)
Buckeye State Blog is tracking the orders. I agree that this could result in lower voter turnout which would hurt Hillary who is favored in Southeast Ohio. (Bill Clinton carried these counties in the 1992 and 1996 general election, which resulted in his winning Ohio, while Gore and Kerry did not and lost Ohio in the general election.
Obama could be adversely affected by such an order in Athens county, home to Ohio University and it's tens of thousands of students.
Hopefully the candidates' ground operations are prepared for this and have volunteers with vehicles to get people to the polls.
The Cleveland Plain Dealer reports lots of Republicans are voting in the Democratic primary.