Tsunami Tuesday: First Democratic Results Thread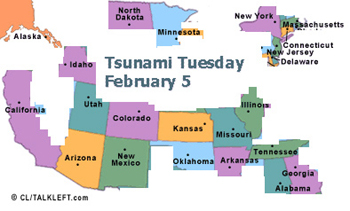 Update: Obama wins Alaska. MSNBC calls Missouri for Obama. Hillary's leading in New Mexico.
Update: Missouri at 97% in is 4,000 votes ahead to Obama. I just checked the counties with some precincts out and they are strong Obama counties so I won't be surprised if he wins there. But they will split the delegates so the effect won't be much.
Obama wins Colorado. He's speaking now. It's the unity and change theme, no red or blue states, just the United States.
Update: Hillary wins Arizona, Obama wins Utah and Idaho. Obama advisor David Axelrod: "We feel good about the ten states we won, they feel good about the seven states they won." What he leaves out is the size of the states Hillary won -- New York and Mass. are not equivalent to Utah and North Dakota.
Update: Projections give Illinois and Georgia to Obama. Arkansas, Oklahoma and Tennessee projected for Hillary.
Update: Hillary wins New York, New Jersey, Massachussetts. Obama wins CT, Delaware, Kansas, MN, Alabama, North Dakota. 9:00 MT: polls now closing in California.
More....