Wisconsin Primary Results: Live Thread One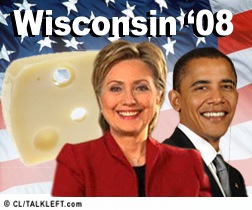 Update: MSNBC, 9:01pm: Too early to call but Obama has lead in exit polls.
Bump and Update: Polls about to close. CNN is going to announce what they know and then talk about Huckabee. What does that tell you? If the media makes you crazy tonight, here's a new thread to vent about it.
****
Polls close in 45 minutes in Wisconsin. MSNBC results here, CNN results here. Predictions? Thoughts? More below.