Senate Ethics Committee Reprimands Larry Craig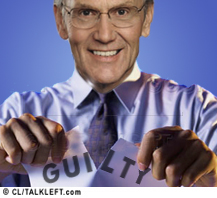 The Senate Ethics Committee today issued a public letter of reprimand to Idaho Sen. Larry Craig.
In a letter signed by all six members of the Senate Select Committee on Ethics, the members affirmed the initial guilty plea that Craig signed after an undercover officer in the Minneapolis-St. Paul International Airport arrested him in a men's room sting.

....In addition, members admonished Craig for trying to use the influence of his office to avoid arrest and failing to notify the committee that he had used his campaign funds to pay his legal fees, a violation of Senate rules.
The full letter is here (pdf.)[More...]