Sen. Larry Craig Guilty Plea to Stand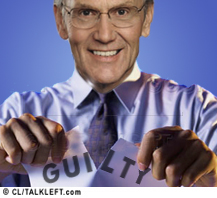 In other news, the Minnesota Court of Appeals has denied Sen. Larry Craig's attempt to reverse his guilty plea in the bathroom solicitation case. On the entrapment issue:
They cited a precedent ruling that said entrapment "exists only where the criminal intent originates in the enforcement officials of the government rather than in the mind of the accused."...."Here, the complaint clearly indicates that the criminal intent originated in the mind of appellant, not in the officer."
More...