Driving While Ambien'd Prosecutor Gets Home Detention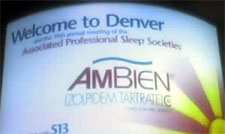 Another driving while Ambien'd story in the news today: An elected District Attorney in Durango, Colorado was sentenced to 10 days of home detention (and loss of his driver's license.)
Craig Westberg, the DA for Archuleta, La Plata and San Juan counties, also must attend alcohol-education classes, perform 60 hours of public service and pay more than $3,000 in court costs and restitution for car damage.

....He was arrested in October 2007 after witnesses reported an erratic driver. Westberg has said he took an Ambien sleeping pill and left home to run an errand when his vision suddenly became blurred.
Patrick Kennedy got a better deal in his DWA (driving while ambien'd) ordeal: Rehab.
Here's a 2006 news article with statistics. [More...]
Ambien is one of the top 20 drugs found in the blood of drivers pulled over by Wisconsin police, says Laura Liddicoat, a supervisor of the forensic toxicology program at the Wisconsin State Laboratory of Hygiene, who presented her findings at a February meeting of the American Academy of Forensic Scientists. Ambien showed up in 187 drivers arrested by Wisconsin police from 1999 to 2004, according to a separate analysis by the state lab.

Ambien was linked to 99 traffic accidents reported to the Food and Drug Administration between 1998 and 2005, according to an analysis performed this month by Charles Bennett, a professor at Northwestern University's Feinberg School of Medicine. Bennett notes that the total number of Ambien-related car accidents could be much higher, because, on average, only about 1% of drug problems are ever reported.

Nineteen patients were eating in their sleep after taking Ambien, according to a June 2005 article in the journal Sleep. One found a near-empty tub of margarine on her kitchen counter, with no idea who had devoured it overnight. Two started small fires while trying to cook.
And yes, Colin Powell, John McCain, Brian Williams and many other high-level politicos and professionals take Ambien. Doesn't everyone?
[Note on the photo: It was on an electronic billboard at baggage claim one year when I was picking up the TL kid. Apparently they were having a conference in Denver and welcoming their attendees, but I thought it such a strange thing to promote, I snapped the pic on my cell phone.