Contractor Mitchell Wade Gets 2.5 Years for Randy Cunningham Bribes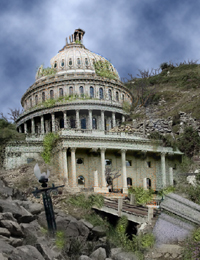 Defense Contractor Mitchell Wade was sentenced to two and a half years in federal prison today for paying almomst two million dollars in bribes to former Congressman Randolph "Duke" Cunningham. Cunningham is serving an eight year sentence.
Wade cooperated with prosecutors, providing evidence against Cunningham and others and pleaded guilty in exchange for a reduced sentence in his own case. [More...]
In 2006 Wade pleaded guilty to four counts of bribery and election fraud.... In exchange for his bribes to Cunningham, Wade's defense company, MZM Inc, received $150 million in government contracts between 2002 and 2005.

Wade was instrumental in the Government getting convictions against Brent Wilkes, who got 12 years, and former #3 CIA official Kyle "Dusty" Foggo, who will be sentenced on Jab. 8 for his guilty plea to a single count of defrauding the Government.
Wade's lawyers asked for a year of home detention instead of prison.
His attorneys had argued that his cooperation was so extensive and had included information about five additional members of congress, none of whom have been charged.
The Government says some of those investigations remain open. The Washington Post reports:
Prosecutors called Wade's assistance "extraordinary," adding that he is still helping them "in a large and important corruption investigation" that they declined to identify.

In addition to talking to investigators more than 20 times and testifying at a corruption trial, Wade financed a search of Cunningham's yacht to find documents missed by federal agents. The search turned up Cunningham's infamous "bribe menu," a document listing his prices for favors.
Despite all that cooperation, the Government still asked the judge to impose four years. So Wilkes did a little better than the Government wanted.
Laura Rozen has been following developments in the Foggo case (raising questions about Porter Goss) at Mother Jones here and here.
TChris provided some background on Mitchell Wade here. The 42 page sentencing memorandum filed by Wade's lawyers is here (pdf), courtesy of author Seth Hettena, who has written a book on Cunningham, Feasting On the Spoils.