Report Blames Rumsfeld for Detainee Abuses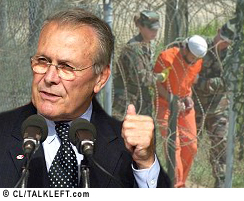 As BTD noted below, a bipartisan Senate Committee has released a new report on the Administration's abuse of detainees in Iraq and at Guantanamo. Senator Carl Levin's press release is here. From WaPo:
The Senate Armed Services Committee report accuses Rumsfeld and his deputies of being the principal architects of the plan to use harsh interrogation techniques on captured fighters and terrorism suspects, rejecting the Bush administration's contention that the policies originated lower down the command chain.

"The abuse of detainees in U.S. custody cannot simply be attributed to the actions of 'a few bad apples' acting on their own," the panel concludes. "The fact is that senior officials in the United States government solicited information on how to use aggressive techniques, redefined the law to create the appearance of their legality, and authorized their use against detainees."
How it began: [More...]