Palin Employees, But Not Husband, Agree to Testify in Legislative Probe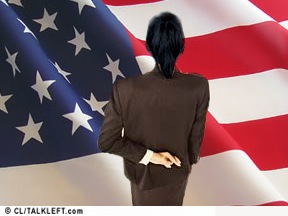 Alaska Attorney General Talis Colberg today said seven employees of the office of Gov. Sarah Palin will honor the subpooenas issued by the legislative committee investigating whether Gov. Sarah Palin abused her power in seeking to have then-public safety manager Walt Monegan fire her brother-in-law. Colberg's announcement follows last week's court ruling refusing to toss the legislative probe.
The Legislature's investigator, retired state prosecutor Steve Branchflower, is expected to complete his report by Friday into whether Gov. Sarah Palin abused her power by trying to force the firing of a state trooper involved in a child custody battle with her sister.
What about Todd Palin? He's still resisting the legislative subpoena, agreeing instead to an interview by the personnel board investigator. The personnel board is under control of the Executive branch. [More...]
Republicans are appealing last week's court decision approving the legislative probe to the Alaska Supreme Court, which could result in delaying the report.
That release could be blocked by the Alaska Supreme Court, which will hear arguments next week in an emergency appeal by five Republican lawmakers trying to halt Branchflower's report. An Anchorage judge recently dismissed that lawsuit along with an attempt by several of the governor's aides to quash subpoenas issued for their testimony in the Legislature's investigation.
How typically Republican is this?
The two investigators could interview Todd Palin together or Branchflower could use Petumenos' interview in his own investigation, [Palin lawyer] Van Flein said, though Branchflower is scheduled to end his probe at least a week before the planned interview.
More on why Palin wants the Personnel Board to take charge:
Sarah Palin originally agreed to cooperate with the Legislature's investigation. But after she joined the GOP ticket, she said the probe had become tainted by politics and filed a complaint against herself with the personnel board, which she says has the proper authority to investigate ethics allegations against the governor.

The governor has the power to fire any member of the three-member panel for cause...
The Republican lawmakers who brought the challenge to the legislative investigation have appealed and asked for a ruling before October 10 (pdf), the date the legislative report is due to be released. Lawyers for the legislative probe filed this response (pdf.)The Alaska Supreme Court order granting a hearing on the Republican lawmakers' motion for emergency relief is here. (pdf) It was entered by a single justice. The hearing will be on Wednesday.
More TrooperGate documents are here.
Here's an Anchorage Daily News video with Palin's contradictory statements about the probe.