John McCain: The Phony Maverick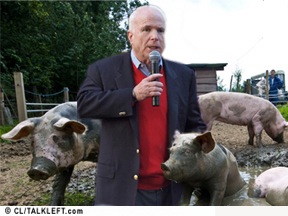 From the new issue of Rolling Stone: Make-Believe Maverick -- a ten page article on John McCain that finds:
A closer look at the life and career of John McCain reveals a disturbing record of recklessness and dishonesty.
Also check out two companion features in the same issue:
The Double-Talk Express:

From tax cuts to torture, John McCain has flip-flopped on a host of issues - including his own immigration bill
The Truth about Sarah Palin:

Sarah Palin's credentials as a "reformer" are nothing but spin. She has sided with Big Oil, lobbied to increase pork spending and abused her public power to carry out personal vendettas. Here's a guide to separating myth from fact.