Imagining Palin as President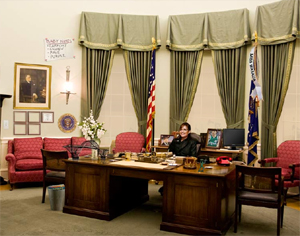 Check out PalinasPresident --it's a flash so don't forget to click on all the objects in the picture. It's updated daily until November 4.
Palin's latest: G-d blessed the U.S. with oil and gas. Forget Joe the Plumber, he's a nobody. Keep your eye on Sarah Palin.
Don't miss David Letterman tonight, John McCain makes an appearance, trying to make up for his canceled appearance a few weeks ago that led to Letterman doing lots of funny jokes about him and Palin. Tonight: [More...]