Pre-Debate Thread: What Will McCain Try Now?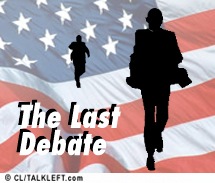 The final debate between Sen. Barack Obama and John McCain begins in less than two hours.
What will McCain do? Will he stay on issues or make a last minute sleaze attack on Obama?
How will Obama respond? How should he respond?
We'll all be here to live-blog the debate -- Big Tent Democrat, TChris, the TL Kid and me -- hope you will join us.
In the meantime, here's a place for your last minute debate thoughts.