Ohio Executes Overweight Inmate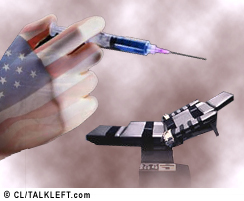 Richard Cooey was executed today in Ohio. He weighed almost 300 pounds. One of his grounds for appeal was that his weight would make it difficult for the the executioners to find his veins.
Most of the news reports I've read contain details of his last meal and last words:
You (expletive) haven't paid any attention to anything I've said in the last 22 years, why would you pay any attention to anything I said now?" Cooey said with his final words
Reporter Eric Mansfield, one of the media witnesses to the execution, reports an additional detail: [More...]
Cooey climbed onto the execution table without protest. Mansfield says Cooey did yell when the shunts were being placed in his arms and asked for his attorney, but the request was denied.
The execution took 12 minutes.
More details from witnesses:
He was on his back on a gurney, with his feet crossed, as intravenous tubes were inserted into his arms. He yelled out for his lawyer during the process.

"I want to talk to Greg Myers," he shouted. He lifted his head and yelled, "Hey, Myers." But his lawyer was in the witness room and unable to speak with him.

At 10:15, Cooey kicked his legs up and left the gurney, then walked on his own into the death chamber to climb onto another gurney. The warden and one guard stood at Cooey's head while the drugs were injected.

At 10:20, Cooey was strumming his fingers, pinky to index fingers, waiting. He exhaled heavily at 10:21, and the warden shook Cooey's shoulder to see if the sleep drug had taken effect. Cooey did not respond.

At 10:27 a.m., the guard drew a curtain around Cooey. McCreery's mother, Mary Ann Hackenburg, threw her head back and exhaled into the air. At 10:29, the curtain was drawn back, and the time of death was announced.