Hillary Wins: AP And NBC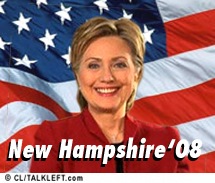 She did it. Amazing!
The importance of tonight's win can not be overstated. It was a revolt of women sick and tired of the likes of Chris Tweety Matthews and the Media Misogynists.
Barack Obama did not lose New Hampshire. The Media did. Their misogynist hatred of Hillary Clinton was soundly rejected by the voters. Especially the women voters of New Hampshire.
How the Media will react to this well deserved rebuke is the question. And let's be clear, Chris Matthews should be removed from covering this race. His offensive behavior is a disgrace to NBC.