New Hampshire Results: First Thread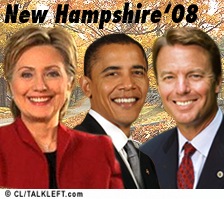 Thread One....Numbers, Predictions, Reactions? New Threads are below.
Update: (TL 10:50 pm):Hillary won! End of live updates.
Update: (TL 10:33 pm): AP is predicting Hillary the winner.
Update (TL 10:24pm): 63% in, still Hillary 39% to Obama's 36%. The votes are coming in slower now. What takes college towns so long to count their votes?
Wolf Blitzer says her 4,000 vote, 3% lead is a "slight" lead. He calls the race "a nailbiter."
Update (TL 10:11 pm): 62% in and Hillary's still ahead, 39% to 36%. Wapole and Mason, the Beyond Currier and Ives town expected to go for Obama are already in and counted.
Update (TL 10:05 pm): The pundits are all surprised. 60% in, Hillary 39% to Obama 37%. But the college towns of Hanover and Durham aren't in yet. Two more Volvo towns, going for Obama as expected, are in: Peterborough and Portsmouth.
More....