New Hampshire: Updated CNN-WMUR Poll , 47% of Dem Voters Still Undecided or Leaning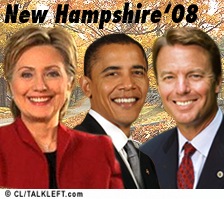 The results of yesterday's CNN-WMUR New Hampshire poll have been updated to include additional telephone polling conducted yesterday (Sunday). Yesterday's numbers included all day Saturday polling and Sunday polling only from noon to 3 pm. The final numbers reflect the addition of the additional Sunday calls. The revised poll results are here (pdf).
The significant findings for the Democratic candidates, when adding in the results from an additional 258 voters who plan to vote in the Democratic primary:
Only 53% of likely Democratic primary voters have firmly decided on their preferred candidate. 26% are leaning towards a candidate and 21% are undecided.
Among likely Democratic primary voters, the numbers are: Obama, 39%, Hillary 30%, Edwards, 16%.
60% of registered Independent voters will vote in the Democratic primary and 40% in the Republican.
Bottom line: 16 hours before most polling places open in New Hampshire, 47% of those likely to vote in the Democratic primary have not made up their mind.