Record Turnout Predicted in New Hampshire, Odd Rules Abound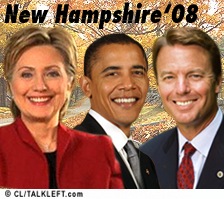 New Hampshire's Secretary of State Richard Gardner is predicting a record turnout for Tuesday's New Hampshire primary.
Gardner estimates 500,000 — or 60 percent of the 830,684 registered voters — will cast ballots....The most votes cast in a presidential primary — 396,385 — were cast in 2000.
Here's the stats on registered voters as of Friday:
Of the 830,684 on the voter list, 373,397 or 45 percent are undeclared; 243,914 or 29 percent are Republican; and 213,373 or 26 percent are Democrats.
As betweens Dems and Republicans, factoring in the undeclared voters: [More...]