Rudy Strikes Out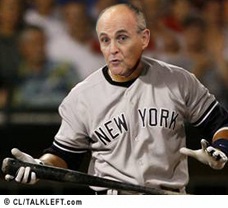 It's over for Rudy Giuliani. The New York Times provides some of the reasons. Among the milder criticisms:
He allowed a tight coterie of New York aides, none with national political experience, to run much of his campaign.

....He accumulated a fat war chest — he had $16.6 million on hand at the end of September, more than Mitt Romney ($9.5 million) or Senator John McCain ($3.2 million) — but spent vast sums on direct mail instead of building strong organizations on the ground in South Carolina and New Hampshire.
Then there's the ones based on Rudy himself: [More...]