Tsunami Tuesday and the Delegates Up for Grabs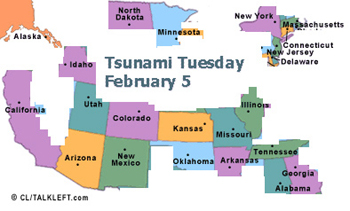 All the early voting states are now behind us. The big deal is Tsunami Tuesday, Feb. 5.
Delegates will matter. This map shows the states holding Democratic caucuses and primaries.
More than 1,500 delegates will be delivered from these states. 2,025 is the number needed to secure the nomination.
The delegate breakdown by states voting Feb. 5 is below: