Tsunami Tuesday and the Delegates Up for Grabs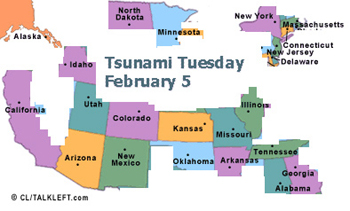 All the early voting states are now behind us. The big deal is Tsunami Tuesday, Feb. 5.
Delegates will matter. This map shows the states holding Democratic caucuses and primaries.
More than 1,500 delegates will be delivered from these states. 2,025 is the number needed to secure the nomination.
The delegate breakdown by states voting Feb. 5 is below:
Alabama Primary, 60 delegates
Alaska Caucus, 18 delegates
Arizona Primary, 67 delegates
Arkansas Primary, 47 delegates
California Primary, 441 delegates
Colorado Caucus, 71 delegates
Connecticut Primary, 60 delegates
Delaware Primary, 23 delegates
Georgia Primary, 103 delegates
Idaho Caucus, 23 delegates
Illinois Primary, 185 delegates
Kansas Caucus, 41 delegates
Massachusetts Primary, 121 delegates
Minnesota Caucus, 88 delegates
Missouri Primary, 88 delegates
New Jersey Primary, 127 delegates
New Mexico Caucus, 38 delegates
New York Primary, 281 delegates
North Dakota Caucus, 21 delegates
Oklahoma Primary, 47 delegates
Tennessee Primary, 85 delegates
Utah Primary, 29 delegates
Democrats Abroad Primary, 11 delegates

Iowa had 50, New Hampshire 30, Nevada 33, and South Carolina 54.
Since it's not winner take all, delegates can change and there are Super Delagates to take into account, it's more than a little uncertain who will benefit most on Feb. 5.
Even if Hillary wins big in California, New York, Massachussetts and New Jersey, and Obama wins big in Illinois, Georgia and Alabama, it still may not be settled.
Here's the latest on New Jersey, New York, California and Massachussetts.