Rudy Hints at Dropping Out of Presidential Race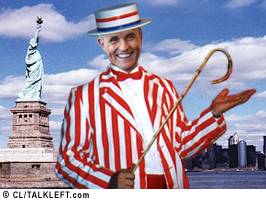 Rudy Giuliani's in trouble in Florida. McCain and Romney are likely to beat him. The latest polls show him battling Mike Huckabee for third place.
The LA Times reports on a conversation Rudy had with reporters on his campaign plane Monday. He hinted he would be dropping out if he doesn't win Florida.
In a meeting in the back of his chartered plane en route to St. Petersburg, Fla., a short while ago, the onetime, longtime GOP front-runner told a small group of reporters, including The Times' Louise Roug: "The winner of Florida will win the nomination."
Other papers are predicting doom and gloom for Rudy in Florida tomorrow. I'm keeping my fingers crossed they are correct.