NE Journal of Medecine: Doctors Should Not Participate in Executions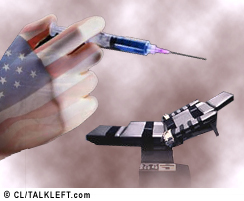 There's an editorial today by three physicians in the New England Journal of Medicine. Shorter version: Regardless of what the Supreme Court decides in Baze v. Rees, physicians should not participate in executions.
This spring the U.S. Supreme Court in Baze v. Rees1 will rule on the constitutionality of the three-drug regimen currently used for lethal injection in most state executions. The Eighth Amendment to the U.S. Constitution prohibits punishment that is "cruel and unusual." The central question before the Court in Baze is whether the use of sodium thiopental, pancuronium bromide, and potassium chloride violates that constitutional prohibition.
More...