NE Journal of Medecine: Doctors Should Not Participate in Executions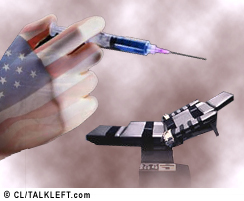 There's an editorial today by three physicians in the New England Journal of Medicine. Shorter version: Regardless of what the Supreme Court decides in Baze v. Rees, physicians should not participate in executions.
This spring the U.S. Supreme Court in Baze v. Rees1 will rule on the constitutionality of the three-drug regimen currently used for lethal injection in most state executions. The Eighth Amendment to the U.S. Constitution prohibits punishment that is "cruel and unusual." The central question before the Court in Baze is whether the use of sodium thiopental, pancuronium bromide, and potassium chloride violates that constitutional prohibition.
More...
On the issue to be resolved:
Since 1977 the Oklahoma regimen has been used in approximately 900 executions, several dozen of which have been botched because of infiltration of intravenous lines, inadequate anesthesia, drug precipitation when solutions of sodium thiopental and pancuronium bromide are mixed, and other problems. In a vivid example, an inmate in Ohio in 2006 raised his head repeatedly during the execution and said, "It don't work."

The use of a neuromuscular blocker, pancuronium bromide, as part of the protocol has been especially controversial, since it has no anesthetic properties and only paralyzes the person, which can mask inadequate anesthesia if a sufficient dose of sodium thiopental has not been administered. The person may be alert and aware and may suffocate owing to paralysis of respiratory muscles, but there will be no way to know it. Also, the subsequent intravenous administration of potassium chloride would cause excruciating pain in a conscious person, but this too would be concealed by paralysis.
The problem:
As a consequence of botched executions, the assistance of physicians and other health care professionals has increasingly been sought to provide consultation, place intravenous lines, mix and administer drugs, and monitor the results.

We are concerned that, regardless of its decision in Baze v. Rees, the Court may include language in its opinion that will turn again to the medical profession to legitimize a form of lethal injection that, meeting an appropriate constitutional standard, will not be considered "cruel and unusual punishment." On the surface, lethal injection is a deceptively simple procedure, but its practical application has been fraught with numerous technical difficulties. Without the involvement of physicians and other medical professionals with special training in the use of anesthetic drugs and related agents, it is unlikely that lethal injection will ever meet a constitutional standard of decency. But do we as a society want the nation's physicians to do this? We believe not.
Their position:
Physicians and other health care providers should not be involved in capital punishment, even in an advisory capacity. A profession dedicated to healing the sick has no place in the process of execution.

....We believe that.... all responsible members of the medical profession, when asked to assist in a state-ordered execution, will remember the Hippocratic Oath and refuse to participate. The future of capital punishment in the United States will be up to the justices, but the involvement of physicians in executions will be up to the medical profession.
I hope this editorial gets the widespread attention it deserves.