S.C. Poll: Obama's Lead Narrows But Still Ahead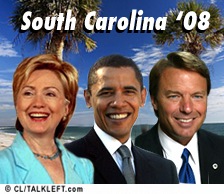 A post-debate South Carolina Reuters-Zogby poll was released today. Obama is still ahead, but his lead has narrowed and Edwards has gained.
Obama's lead fell 3 points overnight to give him a 39 percent to 24 percent edge over Clinton in South Carolina, according to a Reuters/C-SPAN/Zogby poll released on Thursday.

Edwards, a former senator from neighboring North Carolina, climbed four points to reach 19 percent -- within striking distance of Clinton and second place.
Obama's drop is among black voters -- and Hillary gained two points with them. Among white voters:
Edwards held a slight lead over Clinton among likely white voters at 35 percent to 32 percent. Obama had 19 percent.