Rudy Giuliani and His Culture of Revenge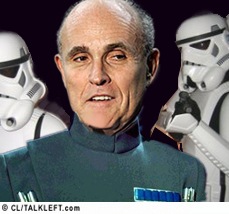 Just in case the fork isn't deep enough into Rudy Giuliani's presidential aspirations, the New York Times helps out a bit.
It's a three page article filled with examples. It begins:
Rudolph W. Giuliani likens himself to a boxer who never takes a punch without swinging back. As mayor, he made the vengeful roundhouse an instrument of government, clipping anyone who crossed him.