Oscar Nominees Announced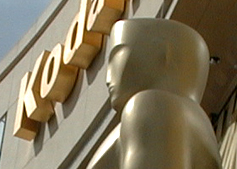 Crime and drugs may not be a big topic in this year's elections, but it is at the Oscars. "No Country for Old Men" and "Michael Clayton" scored seven nominations apiece, including best picture.
In the best supporting actress category,
Completing the list of best supporting actress nominees are 83-year-old Ruby Dee as the mother of a Harlem kingpin in "American Gangster" and Amy Ryan as the drug-dealing mother of a kidnapped daughter in "Gone Baby Gone."
Here's the complete list. Some films that I thought would get some nominations but didn't: Before the Devil Knows You're Dead and Hotel Chevalier, the prequel to The Darjeeling Limited. [More...]
The Writers' Strike may put a big crimp in the Academy Awards show. The show insists it will go on as scheduled Feb. 24, but unless a deal is worked out, it could be an empty shell of a show, like the Golden Globes.
As to the dark nature of the top nominated films:
The lion's share of films nominated in major categories deal in dark themes of human tragedy and struggle -- a fact that Oscar producer Gilbert Cates said was not entirely coincidental.

"These are unsettled times, and the films reflect that," he said.