Rudy's Last Stand: Florida or Bust?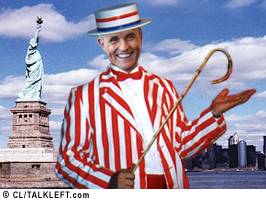 The Guardian reports on Rudy's strategy of foregoing the early states to focus on Florida.
Shorter version: Rudy's last stand.
My take: A loss in Florida will be a body blow. But Tsunami Tuesday, with California, New York, New Jersey and others still count. Don't underestimate him and don't over-estimate McCain. Rudy still needs defeating. Ignoring him or dismissing him is not the right strategy. It's what he's hoping for, that while others see him as laying low in the weeds and stop paying attention, he's been making gains pounding the pavement in Florida with a ten day advantage over his rivals.
Will it work? Hopefully not. But it's not over yet. From the Guardian: [More...]