Looking Ahead To South Carolina For The Dems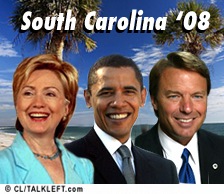 After losing Nevada handily yesterday to Hillary Clinton, Barack Obama is no doubt very happy to be competing in South Carolina this week. That primary is next Saturday, January 26, and Obama is heavily favored holding double digit leads in most polls.
The chances of Obama losing in South Carolina seem almost nonexistent. He has completely solidified his support in the African American community, which will comprise half of the electorate. Obama will win African Americans by 4-1 over Clinton, which will get him to 40% on that vote alone.
But there is a pitfall for Obama. In the last two primaries, he has been drubbed by Clinton among Democratic voters. If South Carolina is close and Obama's victory is solely fueled by overwhelming support by African Americans, Obama risks getting a label he has fought hard to avoid - that he is the black candidate. It would be an entirely unfair label, but it could be attached to him.
More . . .