Nevada: Why Hillary Won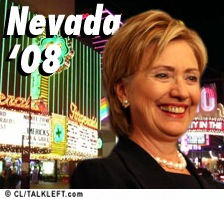 The Las Vegas Sun examines Hillary Clinton's win in the Nevada caucuses yesterday and provides these reasons she won:
Foresaw a huge wave of new voters unlike in her failed Iowa campaign.
Worked relentlessly to appeal to Hispanics from the ground up rather than the top down.
Sewed up the support of many Culinary workers long before the union endorsed Obama.
Dominated among women and then persuaded them show up to caucus.
Won the final week of publicity with tough political gamesmanship.
Most of the remainder of the article focuses on internal campaign strategies. It mentions Clinton's strength among Hispanics and women, but interestingly, concludes with this: [More...]
And though it's easy to slice and dice and analyze strategy, there's this: Nevadan Democrats put their faith in Clinton and her experience.

At dozens of precinct locations voters interviewed by the Sun cited Clinton's experience as the overriding factor in their decision.
Change and experience again. I continue to believe that when it comes time to vote, those adversely affected by our tumbling economy are going to be less concerned with aspirational change and more apt to ask which candidate has both a concrete economic program and a track record showing the ability to push it through.
It just may not be the year for (as Bob Seger once sang) "take a chance on me."