Hillary Wins Nevada ; Takes the Las Vegas Strip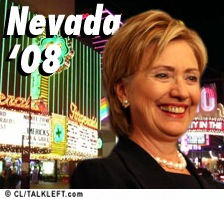 CNN calls Nevada for Hillary Clinton. And, she won the majority of the at-large caucuses on the Las Vegas strip, despite the culinary workers endorsement.
Clinton has carried at sites in the Flamingo, the Rio, Paris Las Vegas, the Bellagio, and Wynn Las Vegas. Only the site at Caesars has gone for Obama so far. First vote at the Mirage was 178 for Clinton and 153 for Obama and 3 for Edwards and three uncommitted. So on second round, that site, too, apparently will go for Clinton. The Luxor site is closely divided and voting again. No word from New York New York.
Update: Harry Reid was right. Caucus turnout exceeded 100,000. Final at-large strip caucus tally: Hillary wins 7, Obama 2. With 91% of vote in, it's Hillary 51%, Obama 45%, Edwards 4%. In Clark County, it's Hillary 55%, Obama 44%.
Update: Hillary has won 7 of 9 of the strip caucuses.
Update: 81% of vote in, Hillary has 51%, Obama 45%, Edwards 4%. CNN says African American voters went overwhelmingly for Obama, Latino voters went huge for Hillary. Obama won younger vote, Hillary won older voters and women voters. John King needs to wake up. He just called Hillary's win "close." It's not close, it's just not as big a margin as the polls gave her a few months ago. [More...]