Democratic Caucuses Open in Nevada: Live Results Thread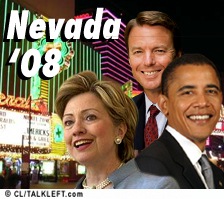 Update: 1:17pm Hillary wins Nevada -- and takes the Las Vegas strip.
Update: 1:05 pm PT: Hillary wins the Bellagio and the Tropicana caucuses. She has four of nine of the at-large caucuses so far.
Update: 1:00pm PT 60% of precincts reporting and Hillary leads Obama 50% to 45%. Interestingly, with 58% of Clark County in, Hillary is leading Obama 55% to 42%.
Update: 12:51 pm PT Obama has left Las Vegas for Chicago. He won't be making any remarks. I'd say that means he doesn't expect to win. 25% of precincts are in and Hillary is leading but not enough votes in yet to call the race.
More below:
Update (12:46pm PT): Hillary overwhelms Obama at Paris, Las Vegas. Obama wins by a nose (and one delegate) at Ceasar's.
Update: Live statewide results here. First caucus result comes in. Elko District 35, it's for Obama. You can follow the Clark County results live, including at-large caucuses here.
Turnout seems all over the place. At the caucus at Caesar's Palace where CNN cameras are, they say there are 164 people. But the Bellagio caucus estimate is 1,000 people.
***
Doors are open for the Democratic caucuses in Nevada. They start at 11:30 am PT. Results will come in between 12pm and 1pm PT. The networks will reveal their entrance polling results any minute.
You can follow the results live and by county here. For a map and explanation of Las Vegas by the county numbers, go here. Updates below: Harry Reid is at his caucus. He says he's remaining uncommitted. Update: His caucus went for Hillary.
Bill Clinton made a last minute stop at the Mirage, one of the at-large casino caucus sites. He also visited inside the caucus at the Rio.
Here's an early turnout report from observers at a few Democratic caucuses.