Democratic Caucuses Open in Nevada: Live Results Thread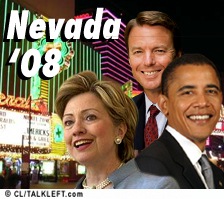 Update: 1:17pm Hillary wins Nevada -- and takes the Las Vegas strip.
Update: 1:05 pm PT: Hillary wins the Bellagio and the Tropicana caucuses. She has four of nine of the at-large caucuses so far.
Update: 1:00pm PT 60% of precincts reporting and Hillary leads Obama 50% to 45%. Interestingly, with 58% of Clark County in, Hillary is leading Obama 55% to 42%.
Update: 12:51 pm PT Obama has left Las Vegas for Chicago. He won't be making any remarks. I'd say that means he doesn't expect to win. 25% of precincts are in and Hillary is leading but not enough votes in yet to call the race.
More below: