Prosecution Accuses Sen. Larry Craig of "Politicking"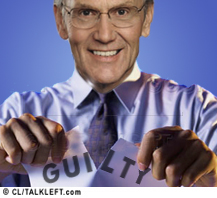 Minnesota prosecutor Christopher Renz has responded to Senator Larry Craig's Motion to Withdraw his Guilty Plea.
Denying Craig's motion "prevents further politicking and game playing on the part of the defendant in relation to his plea," Renz wrote.

Renz wrote that Craig didn't decide to withdraw his plea until after he was hurt by the publicity of the allegations...."The defendant chose to plead guilty and consciously took that risk. The defendant's current pursuit of withdrawal of his guilty plea is reactionary, calculated and political."
Renz also complains that if Craig is allowed to withdraw his plea, there will be a "deluge" of similar requests from other defendants. His support for that belief apparently is a single call received from another defendant.
Renz writes of several calls he had with Craig before the plea. In one, his notes say he advised Craig to seek counsel.
You can read the 41 page memorandum brief here (pdf). His affidavit (with attachments)is here.
Some thoughts: