Federal Judge Rules Tenn. Death Penalty Unconstitutional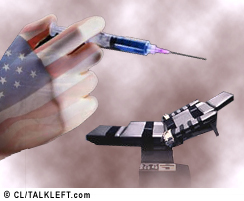 A federal judge in Tennessee has ruled the state's death penalty amounts to cruel and unusual punishment.
The protocol "presents a substantial risk of unnecessary pain" and violates inmate Edward Jerome Harbison's constitutional protections, U.S. District Judge Aleta Trauger said.

The new protocol, released in April, does not ensure that inmates are properly anesthetized before the lethal injection is administered, Trauger said, which could "result in a terrifying, excruciating death."
For more on how the current cocktail of drugs fails to assure a pain-free death see the Human Rights Watch Report, So Long as They Die and this article submitted to TalkLeft in 2004, You Wouldn't Do a Dog This Way.
For more news coverage of the opinion, see the Stand Down Texas Project.