GOP Worried About Petraeus Effect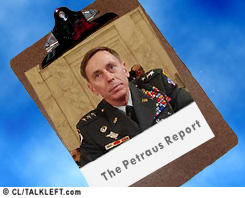 After two days of Senate testimony by General Petraeus and Ambassador Ryan C. Crocker, Republicans are worried.
By Tuesday, it was clear that although such a drawdown would remove the nearly 30,000 reinforcements by next summer, it would leave 130,000 troops in Iraq, a force size that troubled both Republicans and Democrats.

Especially concerned were GOP senators who face reelection next year. They seemed worried by the increasing likelihood that there would be little political progress in Iraq and high levels of U.S. troops there come election day 2008.
House leader Nancy Pelosi expressed her concern this way:
More...