Rudy Won't Answer Faith-Based Abortion Questions, Promotes Drug War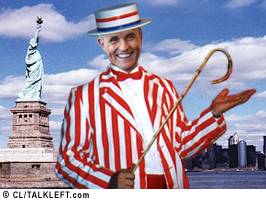 A voter in Iowa asked Rudy Giuliani yesterday how much his Catholic faith affected his views on abortion. Rudy wouldn't say.
"My religious affiliation, my religious practices and the degree to which I am a good or not so good Catholic, I prefer to leave to the priests," Giuliani said. "That would be a much better way to discuss it. That's a personal discussion and they have a much better sense of how good a Catholic I am or how bad a Catholic I am."
Rudy on his personal life:
"I believe that things about my personal life should be discussed personally and privately," he said, adding that his personal life is relevant only to the extent that it would affect his performance in office.
Rudy touted both the war on drugs and his extensive experience jailing people:
[H]e told about 300 people at the town hall meeting that it was essential to expand the nation's anti-drug effort. He said no other presidential candidates has his experience fighting drugs.

"It's something I understand really well," said Giuliani, noting his experience as a prosecutor and mayor of New York City. "I've been doing this kind of work longer than I've been in politics."
Yes, Rudy, you have. And you are terrible at both.