It's Wrong to Shield the Executioner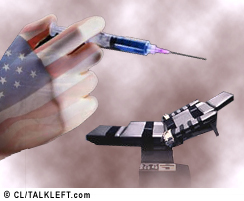 Remember the dyslexic Missouri doctor who botched the drug dosages in dozens of executions?
The New York Times today opines on the practice of states like Missouri that "hood the executioner."
Missouri's ultimate response was to pass a law protecting the identity of the doctor administering the drugs and his ability to practice medicine even if he screws up:
Last month, however, Missouri's governor signed a law that makes it a crime to reveal the identities of current or former executioners — as The St. Louis Post-Dispatch did in the case of the doctor who claimed dyslexia. It allows executioners to sue those who expose them and forbids medical licensing boards to punish doctors or nurses who participate in executions.
As the Times says,
Under the new secrecy law, Missouri's capital punishment system may plunge deeper into incompetence and cruelty, and it will be harder for citizens to stop it.
Bottom line:
We oppose capital punishment for a host of reasons, including that it is unconstitutional. Even those who support executing their citizens must see the need to ensure that the process is not barbarically cruel and is fully open to public scrutiny.
One quibble with the Times. It cites Adam Liptak's recent articles on lethal injection. If the Times is serious about exposing the injustice of lethal injections, it ought to take Liptak's articles out from behind its "Times Select" firewall so everyone can read them.
More...