Three Days, Three Texecutions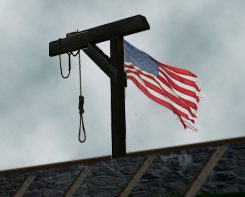 Texas executed Daroyce Mosely last night. It executed John Amador tonight. Tomorrow night, Thursday, it is scheduled to execute Kenneth Foster.
The execution of Kenneth Foster has been drawing loud protests because it is acknowledged that Foster never killed anyone. He was convicted and sentenced to death under Texas' "law of the parties" rule (known as felony murder in other states -- think Lisl Auman in Colorado.) Basically it holds the accomplice liable for the murder, including the death penalty, if the accomplice should have anticipated the murder or was recklessly indifferent to it.
During the course of a robbery and while 80 feet away from him, Foster's co-conspirator took out a gun and killed a law student.
This Dallas Morning News editorial explains why Foster's execution is wrong.
More...
By applying the law of parties to this capital case, prosecutors are asking jurors to speculate on whether he should have anticipated the murder. Conjecture isn't nearly good enough when a defendant's life is on the line.

And relying on a mind-reading jury leaves plenty of room for reasonable doubt.... Mr. Foster is a criminal. But he should not be put to death for a murder committed by someone else.
Mr. Foster's last hope lies with the Texas Board of Pardons and Paroles and the Governor. Gov. Perry has the option of issuing a 30-day stay. He and the Texas Board of Pardons and Paroles, acting in concert, can commute Foster's sentence to life in prison.
I'm not optimistic about stopping the execution, despite the valiant efforts of advocacy groups which Jane writes about here,
The ColorOfChange folks are asking that people call the Governor at 512-463-2000 and the Pardons and Paroles Board at 512-406-5852 and ask them to spare Foster 's life. Then e-mail calls AT colorofchange DOT org to let them know that you did.
You can also send a e-letter to Gov. Perry here.
Texas is the only state that allows an accomplice who didn't kill to be executed. It's wrong.