A Recess Appointment to Replace Gonzales?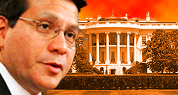 Bush wouldn't dare, right? Josh Marshall says don't be surprised if Bush uses a recess appointment to name the next Attorney General, bypassing the need for Senate confirmation.
My take: Of course he would. What's he got to lose? He's already a lame duck. The Republicans didn't stand up for Gonzales, why should Bush care whether they catch flak over a recess appointment when 2008 comes around?
All this talk by Schumer and others about appointing a non-political Attorney General who will uphold the rule of law, as I said earlier, is just more verbiage. It sounds good but it will never happen so long as Bush is in office.
One of the perks of being President is getting to name your cabinet members. Bush isn't going to let anyone stand in his way. He might sound the Dems out on his replacement pick, but if they say no, I think he'll just go ahead by way of recess appointment. He hasn't cared what the Dems think about anything else, why would he start now?