Suggestions for Judge Walton on Libby's Supervised Release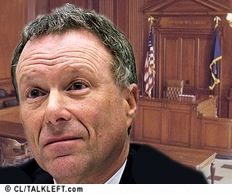 There's a lot of buzz about Judge Walton's order (pdf) asking for briefs on whether Scooter Libby can be placed on supervised release since supervised release follows the service of a prison sentence and Libby didn't serve a prison sentence. [See,Scotus Blog, Sentencing Law and Policy, Big Tent Democrat and don't miss Christy at Firedoglake]
Howard Kieffer, who runs the excellent BOP Watch List-Serv, to which scores of criminal defense lawyers subscribe, has the response printed below.
Shorter version: The day Libby was booked is counted as a day in custody. He served (got credit) for his one day in prison and therefore can be put on two years of supervised release.
More...
This, IMHO, is a very simple issue. Supervised Release, by statute, follows a term of imprisonment. Probation is only applicable when the sentence does not include imprisonment. Libby, contrary to various media reports, never got (and doesn't now have) Probation.

Libby was originally summonsed into Court (not arrested), but was still booked by the Marshals - probably immediately after entering his plea of not guilty. This is when (contrary to media reports) he was assigned his "prison number."

Libby, just like virtually every other defendant, receives one day of jail credit for that booking. Accordingly, since Bush commuted the sentence (of imprisonment) and stated that it would expire immediately, the statute is served - his Supervised Release follows the expiration of his sentence - one day (after commutation).

Consequently, this should be a no-brainer for Judge Walton - and all the sentencing pundits who have raised this issue. Technically, Libby must report to Probation within 72 hours of his "release" from incarceration - because of the commutation, that would mean by COB Thursday. His Supervised Release started today - July 3, 2007.
Makes sense to me, thanks, Howard. Why not fax it to Judge Walton?
Here's another question: The penalty for a violation of supervised release can include a return to prison. What penalties can Scooter face if he violates supervised release?
Update: Appellate criminal law whiz Peter Goldberger of Ardmore, PA weighs in:
(1) The President's commutation power is plenary -- unlimited. Even if the statute does not allow the judge to impose supervised release without a term of imprisonment, the President, in the exercise of his commutation power, can cancel the term of imprisonment and impose "supervised release" without prior imprisonment.

Similarly, the President could put someone (Libby or anyone else under a federal sentence) on parole for a post-1987 offense, or require that he reside in a halfway house for two years, or in home confinement for more than 10% of his sentence, or shorten a sentence to less than a mandatory minimum, or anything else. The president in granting a commutation, in other words, is not bound by the statutes that bind sentencing judges in imposing sentence, or the Bureau of Prisons in executing sentences.

And in this case, Bush's "proclamation" of clemency (as opposed to the press release, which used the term "probation") expressly left "intact and in effect" the "two-year term of supervised release, with all its conditions."

(2) While it follows from this that the judge needn't be concerned about the legality of the supervised release term in light of the commutation, he would have no legal power to do anything about it now even if he felt it were illegal, for two reasons.

First, after seven days go by, the federal sentencing judge cannot revise the sentence. Fed.R.Crim.P. 35(a). Also, he cannot revise the sentence in any event while an appeal of that sentence is pending, as it is in Libby's case, with only a few exceptions.

(3) One of those exceptions is this: If there is no bail or stay pending appeal (as in Libby's case), and a period of supervision is running, the judge can police and monitor the supervision while the appeal is pending.

Now comes the good part: The judge cannot "revoke" the supervised release just because he feels like it. A finding of wrongdoing in violation of the conditions would be needed. 18 USC 3583(e)(3).

However, without any finding of violation or other wrongdoing, simply on account of changed circumstances, after re-considering the 3553(a) factors [other than (a)(2)(A) (the seriousness of the offense, respect for law, and just punishment), but including (a)(2)(B) and (C) (deterrence and protection of the public), and notably including (a)(4) (the applicable guideline range)], the judge can modify the conditions of supervised release. 18 USC 3583(e)(2).

This includes the power to "enlarge the conditions." Among the permissible conditions that the judge could add (after a hearing pursuant to Fed.R.Crim.P. 32.1(c)) are, according to 3583(d):

Any of the discretionary conditions of probation listed in 3563(b), other than (b)(11) (halfway house residence) and "any other condition [the judge] considers to be appropriate."

Among those permissible conditions are:

3563(b)(6): refrain from associating with specified individuals (Might this include Karl Rove or Dick Cheney?)
(b)(10): remain in custody of the Bureau of Prisons for nights, weekends or other intervals totaling no more than one year, during the first year of supervision.
(b)(19): home confinement during non-working hours, with or without monitoring.

Not that I'm suggesting anything.