Vanity Fair Rips Judith Giuliani Big Time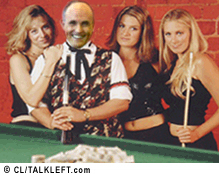 There's a six page feature article on Judith Giuliani in the new Vanity Fair which will be on the newstands this week. You can read it online now.
By the middle of the first page, you know it's going to be a train wreck for Judi. By the end of the article, there are no survivors, least of all Judi and Rudy.
Some of the juicier tidbits, like her ex-husband's allegation contained in court papers that she shouted anti-semitic insults at him and the intricate details about how, as an employee of U.S. Surgical, a company that performed live demonstrations of its surgical devices for doctors, she would have had to participate in the cruel killing of dogs, are going to seriously raise the blood pressure of Rudy's campaign staff. Others, like how her Louis Vuitton purse is so large it gets it own seat on their private plane and is nicknamed "Baby Louis" are amusing.
Mostly, she comes across as a phony, money grubbing, power-seeking wannabe.
Towards the end, there is speculation that Rudy's wandering eye is back.
The position of "Mrs. Giuliani" has not historically been a secure post. Although the candidate has lately been warned by advisers to avoid any hint of scandal, there is a sense that perhaps he is not listening. "Does a leopard change its spots?" says one close friend.
A source described as a friend of Rudy's says:
"Rudy has no willpower when it comes to relationships. This is why it's such an issue," says a Giuliani friend.
In all, it's a hatchet job but one you just can't stop reading.
Update: Wonkette's recap had me laughing out loud.