Florida Judge Criticizes "Hooded Executioner" Procedure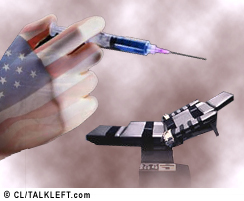 Last week, Governor Charlie Christ ended the suspension on executions in the state. Other objections are emerging.
At a hearing Sunday in a case involving an upcoming execution, Circuit Judge Carven Angel in Ocala expressed additional objections:
Circuit Judge Carven Angel in Ocala questioned the "experience and competence" of the hooded executioner who's paid by the state to apply lethal chemicals in the death chamber.
The Judge noted that the job of executioner, which pays $150.00 per execution, is open to those 18 and older. The law provides his or her identity be kept secret.
"I don't think that any 18-year-old executioner with the pressure of a governor's warrant behind him to carry out an execution, and with the pressure of the whole world, the press and the whole world in front of him, and looking at him, is going to have enough experience and competence to stop an execution when it needs to be stopped," the judge said, according to the transcript. "I just don't think that's going to happen."
More...