Alberto Gonzales Vows to Stay on the Job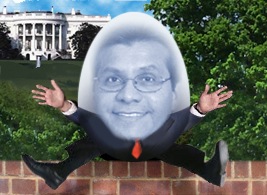 (Update: Firedoglake is live-blogging the hearing -- Part 1 and 2 so far.)
Attorney General Gonzales, scheduled to appear before the Senate Judiciary Committee today, says in his prepared testimony that he has no intention of resigning.
"I could walk away, or I could devote my time, effort and energy to fix the problems," Gonzales said.

"Since I have never been one to quit, I decided that the best course of action was to remain here and fix the problems. That is exactly what I am doing."
More quotes from his statement are here. Why should he get the opportunity to fix problems he either created or negligently allowed to occur on his watch?
As to the topics he'll be quizzed about, TPMuckraker lists these:
This time around, in addition to the usual battery of questions about the firings, he'll have to respond to Monica Goodling's revelation that Gonzales talked to her about her recollection of the firing process shortly after Congress launched its investigation. The Justice Department's internal probe of the firings has expanded to include whether Gonzales might have been improperly trying to shape Goodling's future testimony. He's also sure to get questions about why he falsely testified to Congress that he didn't know of any counterterrorism abuses by the FBI.