Rudy Giuliani Watch: How to Turn a Question About HIV Into a 9/11 Boast Opportunity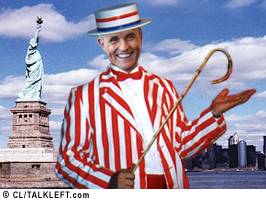 The New York Times re-examines Rudy Giuliani's strained relations with the African-American community during his tenure as Mayor.
By 1997, Mr. Giuliani's job approval rating in the black community stood at 42 percent, according to a New York Times poll.

But within these victories lay the seed of a problem. Even as crime dropped by 60 percent, officers with the street crime unit stopped and frisked 16 black males for every one who was arrested, according to a report by the state attorney general. Then came three terrible episodes that raised a pointed question for black New Yorkers: Was crime reduction worth any cost?
And here's Rudy in Iowa, when asked about increasing federal support for HIV medication, answering by referring to 9/11 and terrorists:
"My general experience has been that the federal government works best when it helps and assists and encourages and sets guidelines… on a state-by-state, locality-by-locality basis. It's no different from the way I look at homeland security. Maybe having been mayor of the city, I know that your first defense against terrorist attack is that local police station, or that local firehouse."