Hillary's Latest Endorsement: Joseph Wilson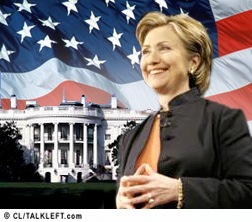 I just finished a blogger conference conference call with the Hillary Clinton campaign.
Hillary has picked up a big new endorsement: Former Ambassador Joseph Wilson.
Joe says he has known Hillary for over a decade and has spent a lot of time discussing Iraq with her. He thinks she is the most likely to get us out of there.
During the last four years while he and Valerie went through the Republican meat-grinder process, Hillary reached out to them repeatedly to share the lessons she learned from her experience in the meat-grinder.
She has the leadership ability. She understands the political process. She has an enormous commitment to this country. She is the best equipped to fight for us.
The call then opened up for questions. Taylor Marsh, Steve Clemons, Dave Johnson, Tom Burka were among those who questioned him. Check out their blogs for their reactions.
More...