Tancredo Introduces Legislation to Preclude Citizenship for Babies Born to Undocumented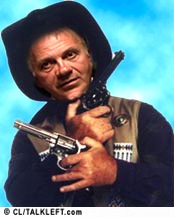 Tom Tancredo is in need of an attention fix for his fledgling Presidential campaign that while never getting off the ground still took a nose-dive when immigration reform fell off the table.
His latest is to introduce a bill that he knows will not pass but hopes will push emotional buttons back into overdrive.
Everybody knows that if you are born in this country, you automatically are a U.S. citizen. Under Tancredo's bill, a baby born to undocumented residents would be stripped of citizenship.
Tancredo's legal foundation for this is his unique view of the 14th Amendment. How unique?
Tancredo doesn't have any co-sponsors for his bill. Asked what support he expected, Tancredo, standing alone on a podium, looked to the right and the left and noted the absence of fellow lawmakers.
More...