Witnesses Announced for Hearing on Libby's Commutation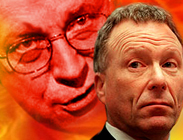 The House Judiciary Committee has announced the list of witnesses for Wednesday's hearing on "The Use and Misuse of Presidential Clemency Power for Executive Branch Officials.
Via TP Muckraker and Sentencing Law & Policy:
Ambassador Joseph Wilson
Roger Adams, US Department of Justice Pardon Attorney
Douglas A. Berman, William B. Saxbe Designated Professor of Law, Moritz College of Law, The Ohio State University
Tom Cochran, Assistant Federal Public Defender, Middle District of North Carolina (Attorney for [sic] Vincent Rita, Rita v. US)
David Rifkin, partner, Baker & Hostetler

LLP,

former Justice Department official during the Reagan and Bush Sr. administrations.
TP Muckraker quotes Rep. John Conyers on the purpose of the hearing:
"Congress must now look into presidential authority to grant clemency, and how such power may be abused. Taken to its extreme, and possibly in the case of the Libby clemency, the use of such authority could completely circumvent the law enforcement process and prevent credible efforts to investigate wrongdoing in the executive branch."
While I'm pleased Joe Wilson and Prof. Berman, who writes the excellent Sentencing Law & Policy blog are going to be witnesses, I'm concerned that the committee will not be hearing from anyone involved in the Libby commutation process.
There was no clemency petition, the Pardon Attorney was kept out of the loop and I just don't see how these witnesses will shed any light on whether Bush's motive for granting the clemency was proper or improper.
More...