Off to NORML and Aspen, Open Thread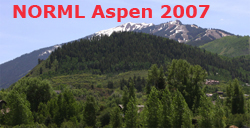 I'm off to Aspen and the 2007 NORML legal seminar where I'll be speaking again on using the internet for free legal research and blogging.
Big Tent Democrat, TChris and hopefully, Last Night in Little Rock, will be posting in my stead.
One of the highlights is that we will again be able to spend Sunday afternoon at Hunter Thompson's Owl Farm. That's in addition to Tommy Chong and Tony Serra and food by Chris of Cache Cache. Not to mention my favorite Sheriff Bob Braudis who will be on scene. (One of Bob's sayings: You neither need a big stick nor a big gun to keep the peace in Aspen. Listen to Jimmy Ibbotson of the Nitty Gritty Dirt Band singing Braudis is Our Man, His County Rocks.)
Check out my my videos of last year's Aspen conference and our day at Owl Farm. (My You Tube video of Owl Farm was my first video ever and has generated 23,137 views and been favorited 75 times.)
This year, Hunter's wife, Anita, has invited me to stay at Owl Farm, so that's where I'll be for the weekend. I'm bringing both my camera and video camera. Hopefully, if I haven't forgotten how to use them, when I get back, I'll have some new pix and video for you.
(The hard decision: Whether to sleep in Johnny Depps' bedroom downstairs in the basement or on the main floor. The former was very tempting, but I chose the latter.)
'Tis a privilege to live in Colorado. And yes, this is an open thread.