Scooter Libby Files Motion for Appeal Bond, Lists Grounds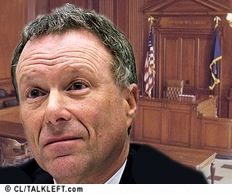 Team Libby today filed its Motion for Appeal Bond, listing the grounds upon which they believe the Court erred before and during trial. I've uploaded the motion(pdf) and attached exhibit (pdf).
I think they make some excellent arguments, particularly about the standard. It's not necessary that Judge Walton believe he was wrong, or that reversal is probable, only that the issue presents a close question or one that could have been decided the other way.
The grounds Libby raises:
More....
1. The Special Counsel's exercise of authority violated the Constitution and laws.
2. The memory defense, including failure to allow a memory expert to testify. (this is what the exhibit pertains to, the juror interview after the verdict about questions the jury had on memory.)
3. The CIPA substitutions
4. Exclusion of the Government Statement Admitting Relevant Facts
5. Exclusion of the CIA briefer's testimony
6. Refusal to allow defense to call Andrea Mitchell
Usually the defendant puts their best issue first, so I suspect they think the statutory authority issue is their best bet. I don't. I like the memory expert issue.
Hearing is on June 14 at 11:30 a.m. (moved from 1:30 p.m.)
Dan Froomkin has a round-up of newspaper editorials opposing a pardon -- there's a lot of them.
If you haven't read it yet, check out my op-ed in today's Washington Examiner, Rough Times Ahead for Scooter Libby.
Update: Thanks to Deconstructionist in the comments for pointing out this D.C. case law on the standard:
(1) Does the appeal raise a substantial question? (2) If so, would the resolution of that question in the defendant's favor be likely to lead to reversal? ....A substantial question is "a 'close' question or one that very well could be decided the other way."