Scooter Libby Files Motion for Appeal Bond, Lists Grounds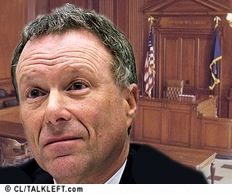 Team Libby today filed its Motion for Appeal Bond, listing the grounds upon which they believe the Court erred before and during trial. I've uploaded the motion(pdf) and attached exhibit (pdf).
I think they make some excellent arguments, particularly about the standard. It's not necessary that Judge Walton believe he was wrong, or that reversal is probable, only that the issue presents a close question or one that could have been decided the other way.
The grounds Libby raises:
More....