What Can Cheney Be Thinking Today?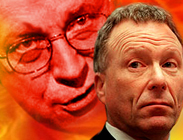 In light of the sentence imposed by Judge Reggie Walton today on the former Cheney Chief of Staff Lewis I. "Scooter" Libby, what I wonder about is what is Vice President Cheney thinking today. Despite what some of us say, clearly Scooter Libby has done some good things in his life. He was not a person naturally inclined to perjury and obstruction of justice. But, to protect Dick Cheney, that is precisely what he did.
To me at least, the genesis of the outing of Valerie Plame was Cheney's reaction to the May 6, 2003 Nicholas Kristof column, where Joe Wilson was Kristof's principal source. For reasons still not clear, Cheney went ballistic about it and ordered a full court press to discredit the report. This included finding out "who sent Wilson" and then, trying to spread the word that Wilson was not credible (the logic is not clear why this would be discrediting) because "his wife sent him." Of course, to forward the charges of nepotism and boondoggles, it was necessary to reveal that Valerie Plame worked at the CIA.
Cheney was not deterred. Libby was ordered to do what he had to do.
More...