Sentencing Arguments Underway for Scooter Libby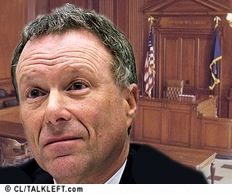 Update: CNN: 30 months for Scooter Libby. Libby goes home. No ruling on appeal bond.
10:00 ET: The Judge is hearing legal arguments over the application of the federal sentencing guidelines to I. "Lewis" Scooter Libby.
Marcy is live-blogging at Firedoglake (Part 1 here, Part II here.) Judge Walton seems to agree with the Government that the cross-referencing guidelines are appropriate for at least the obstruction of justice count. All agree they don't apply to the false statement charge.
That's bad for Libby. His lawyer, Bill Jeffress, is now arguing that Valerie Plame was not covert, which is just wrong. She was covert.
10:11 am ET
....More