Okla. Executes Inmate Dying of Cancer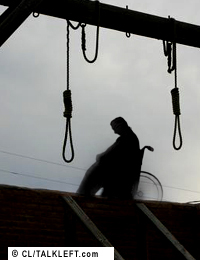 Bump and Update: The Supreme Court has denied the request for a stay. The execution has taken place. Bland was declared dead at 6:19 pm. I hope for his sake they started late -- 19 minutes is a long time.
**********
I can only imagine how the civilized world will view this story. Jimmy Dale Bland is set to be executed at 6pm tonight in Oklahoma.
Bland has advanced lung cancer which has spread to his hip and brain. He's terminally ill and will die soon on his own.
The Oklahoma state and federal courts have denied a stay, insisting the state has the right to kill him before he expires on his own.
In a dissenting opinion, Judge Charles Chapel of Tulsa said a stay should be granted to protect "the dignity of society itself from the barbarity of exacting mindless vengeance."
A last-minute decision from the Supreme Court is expected any time now.
More...